Our Aims
Sharpen our awareness and attentiveness
for totalitarian and contemptuous germs in ourselves as well as in our society. We do believe in a living democracy and civil courage.
Be a reliable partner
for those wanting to get more information for a visit to the former Mauthausen contentration camp as well as for those seeking contact with residents and/or survivors of Mauthausen.
Dialogue with young people
to empower them to cope with history and fight fascist and racist tendencies a well as social exclusion today.
Cooperate with the Mauthausen Committee Austria (MKÖ)
as well as local initiative groups, by helping them in their activities especially in implementing the plan of a Meeting Place for the European Youth.
Bridge historic divides in Mauthausen.
(Deutsch) im Ort überwinden.
The Name Mauthausen
In Austria, the very name of Mauthausen is beyond doubt a synonym for contempt of mankind as the main characteristic of Nazi terror. This Mauthausen has become a remembrance place of paramount importance. As activists of the initiative "A Perspective for Mauthausen" we want, furthermore, to help make Mauthausen a place of reflection. The town should continue to remember its history and actively assume responsibility for it, today and tomorrow.
Organize cultural events
to help people in their understanding and processing of history.
We are...
...an anti-Fascist group of Mauthausen activists fighting every form of human disrespect and contempt. We work as a nonpartisan group interested in history and culture. Our aim is to help change the town of Mauthausen into an open space for people, from here and from abroad, to meet and understand each other. The Mauthausen Committee Austria (MKÖ) is our key partner.
non-partisan

interested in culture and history

antifascist

against any form of human disrespect and contempt
News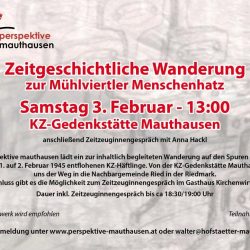 Sorry, this entry is only available in German.
Escape-Tracks (Fluchtspuren) Like every year the perspektive mauthausen hosts its cultural event in the rememberance of the happenings around the so-called "Mühlviertler Hasenjagd". For 2016 the organizers were able to engage the actor, author and director Werner Schneyder. He will read texts from and about people escaping – this topic not only exists in the[…]
The perspektive mauthausen starts with a new homepage. More modern, more intuitiv and more informative, the website should be there – multilingual – for the dialouge and the information for culture- and history-interested antifascists! Therer are feautures, that we add to the site in the near future. For example there will be a gallery with[…]
Previous
Next